Crate training a puppy isn't as difficult as you first think.
As with any kind of dog-training, the process requires patience, time, and then a little more patience.
But it's worth it.
By crate training your pup you will not only provide your pet with this much-needed sense of security and comfort that they need, but it will also give you, the pet parent, peace of mind when you leave your puppy at home alone.
Do the job right and you will have less problems later down the road when you are training your pup to use an indoor dog potty for example.
This post may contain affiliate links. They cost you nothing but we make a small commission. All of the products that we recommend have been reviewed and tested by us. To learn more visit our disclaimer page.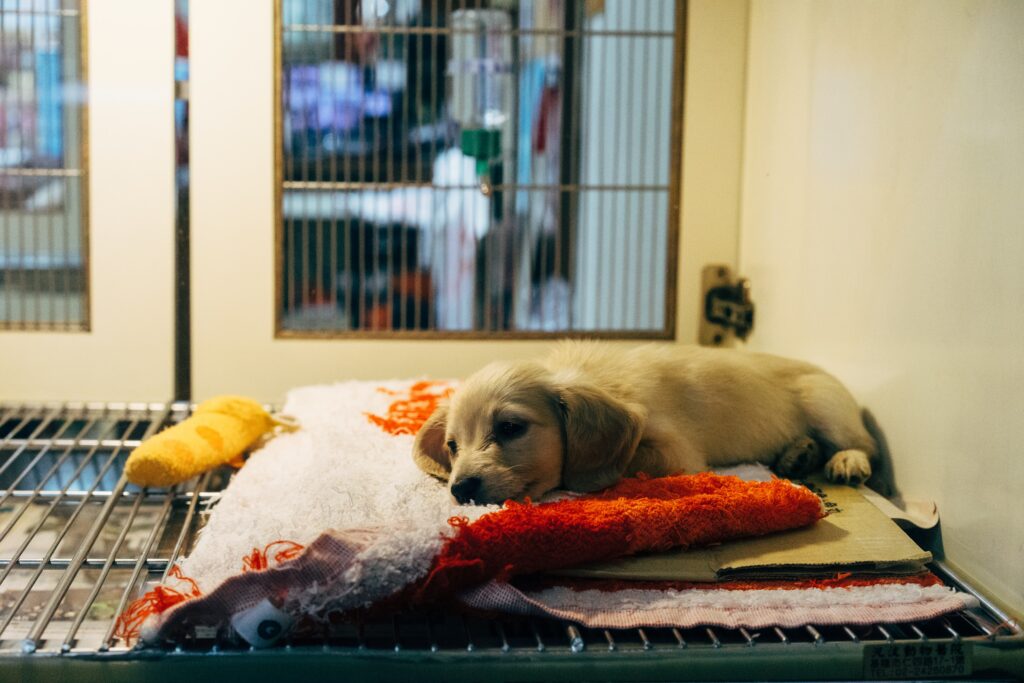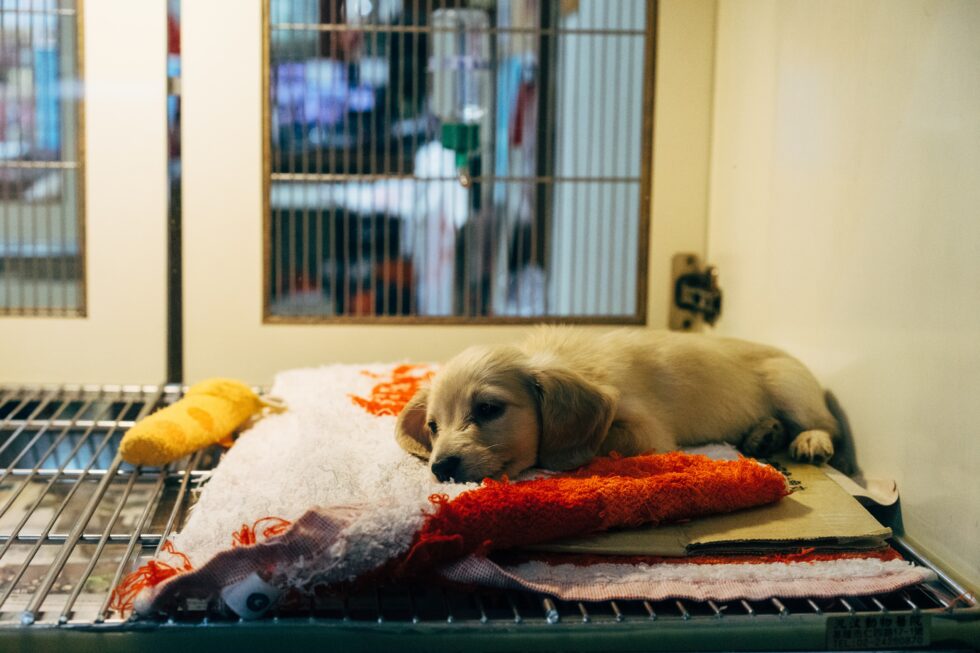 Before We Talk About Crate Training A Puppy…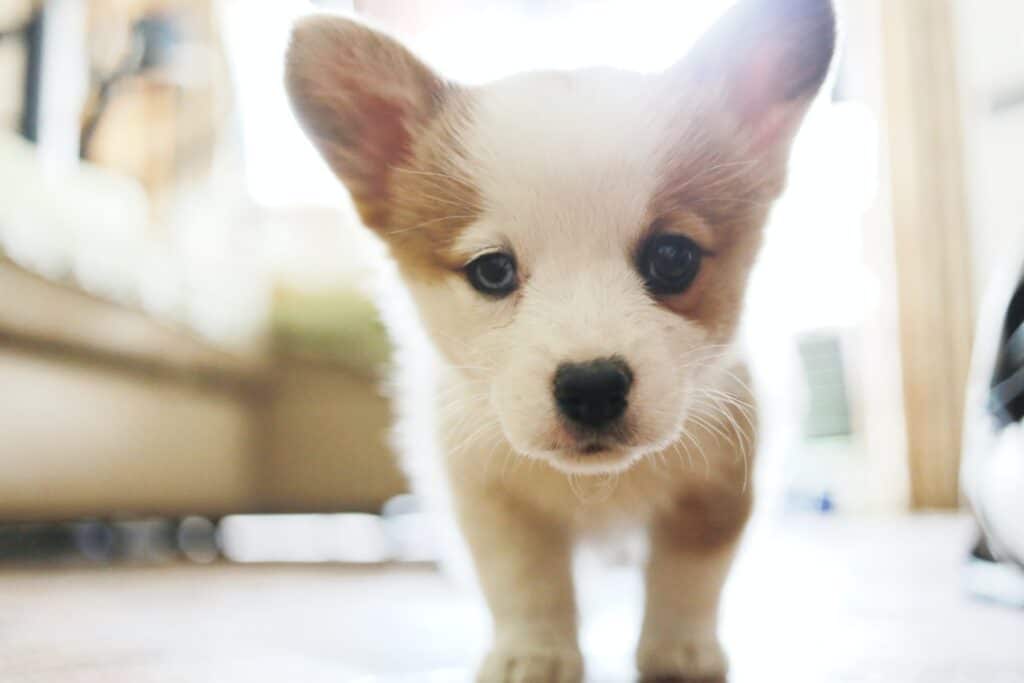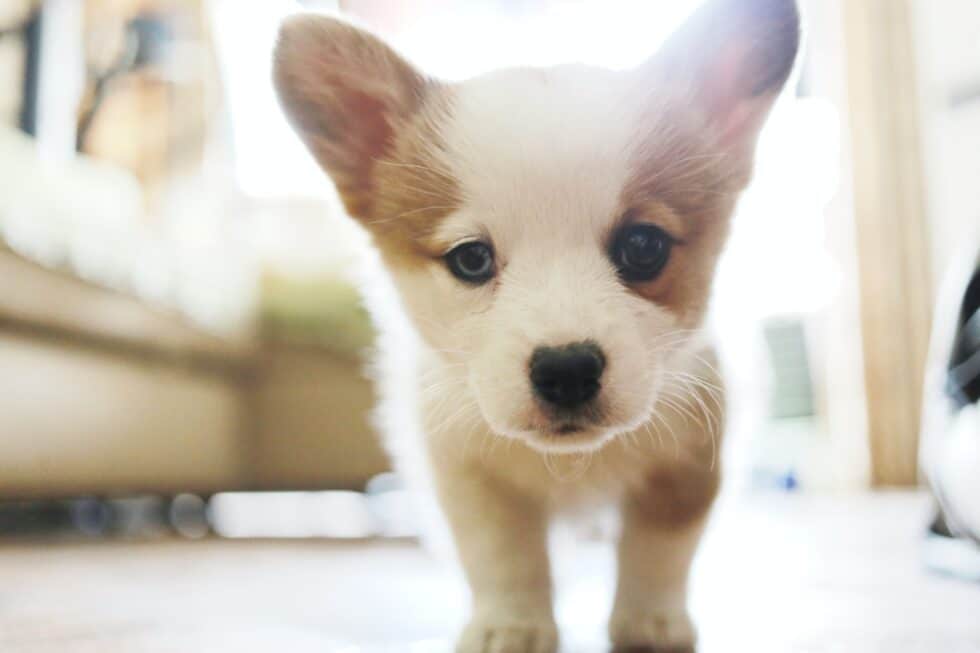 Crate training a puppy requires patience and time.
When you first buy a dog there are so many things you must do.
Along with finding a unique name for your dog, introducing him to the rest of the family and making sure that he is a well mannered and socialised puppy, you must also face the inevitable task of crate training your pup as quickly and as stress-free as possible.
There are a few common mistakes that owners make when crate training their dog and we will cover these throughout the post.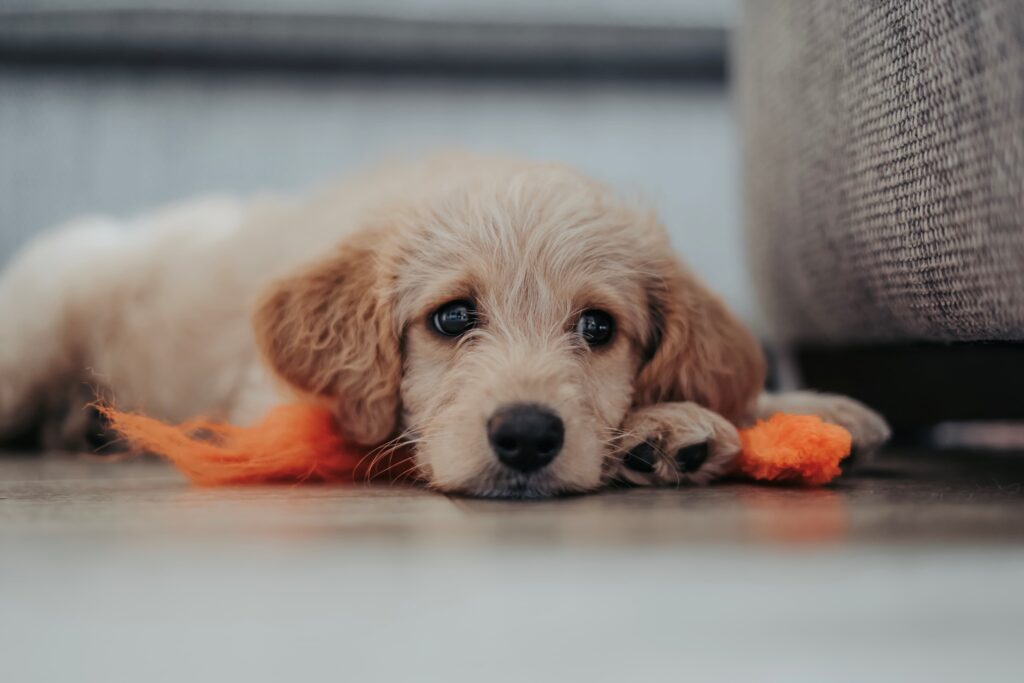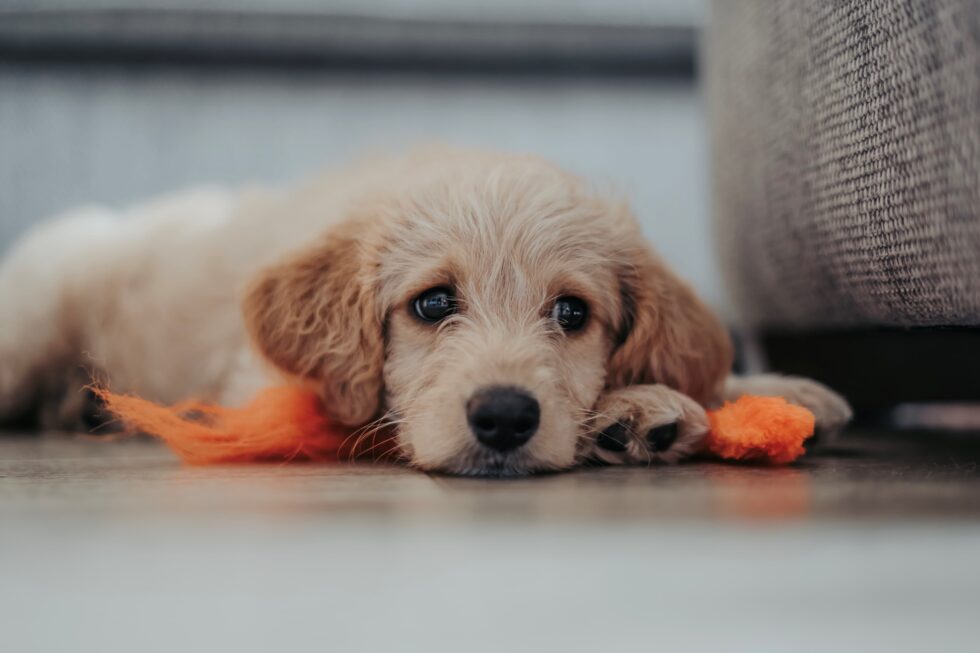 Crate Training. The Benefits For Your Dog
A crate will provide your puppy with a sense of security – especially when they become frightened or need to get away from boisterous kids or other pets.
Regardless of the fact that your new puppy is the perfect dog breed for kids, don't forget that every dog appreciates heir own space and a crate (or den) is the perfect way of providing this.
By filling the crate with your puppy's blankets and smell, the crate will become a comforting sanctuary for your dog.
If you are worried about the crate becoming smelly know that washing your puppy's blankets and toys regularly is the perfect answer to getting rid of dog smell from around the house!
When a dog feels safe and secure, they tend to sleep better at night (and through the night).
Certain sociable breeds such as the loving Bernese Mountain dog would prefer that they stay around the family at all times – he would be happy to have his own crate set amongst the hustle and bustle of the family.
Consider a dog crate that is on wheels and can be moved around. This dog crate is the one that we recommend.
Crating your puppy will speed up the potty training stage, especially for those breeds that are quick to learn.
Puppies don't like to soil their beds, and as long as your puppy is let out at regular intervals, they will be more inclined to wait until they are outdoors before relieving themselves.
(Crate Training Mistake #1)


Crate Training A Puppy. The Benefits For You
You can relax when you leave the room or house, knowing that your young pup is not being destructive in the house.
You can toilet train your puppy quickly (remember, dogs don't like to soil where they sleep) leaving you more time to enjoy your dog.
By choosing a portable dog crate can move your pooch to whichever room you are in. This gives both you and him less separation anxiety.
Crate training your pup will provide you, the owner, with an overall calmer, happier dog!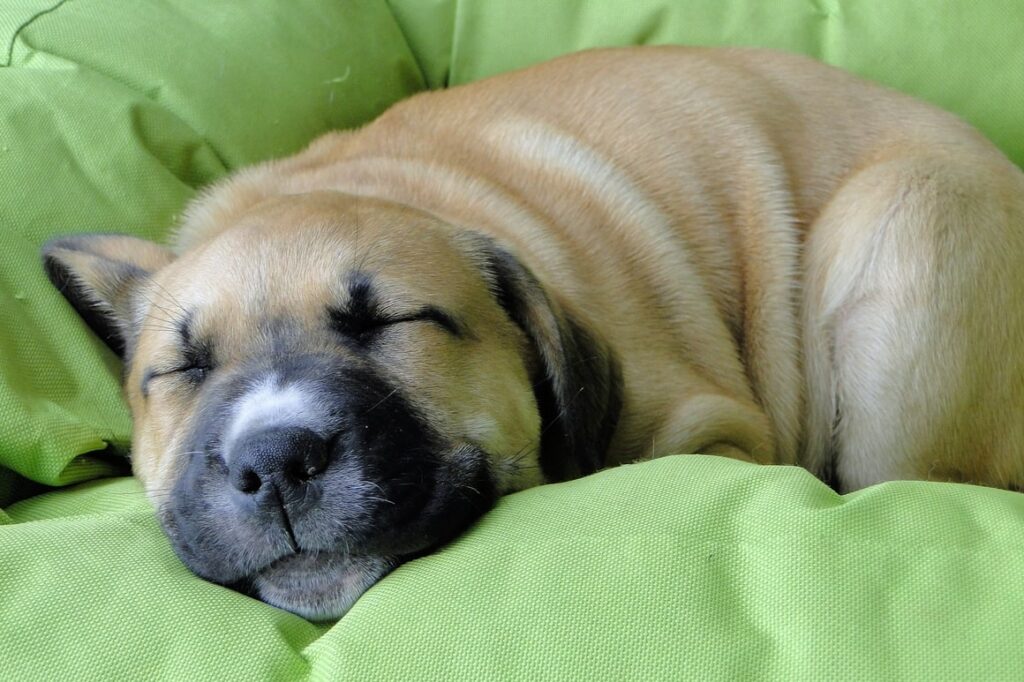 Looking for a way to quickly & easily CRATE TRAIN your puppy?
WITHOUT spending $$$ on fancy courses or long-winded books?
Click the image below to find out why THOUSANDS of dog owners
are RAVING about these PROVEN methods to CRATE TRAIN dogs in as little as
7 DAYS!
10 Easy Steps to Crate Training Your Puppy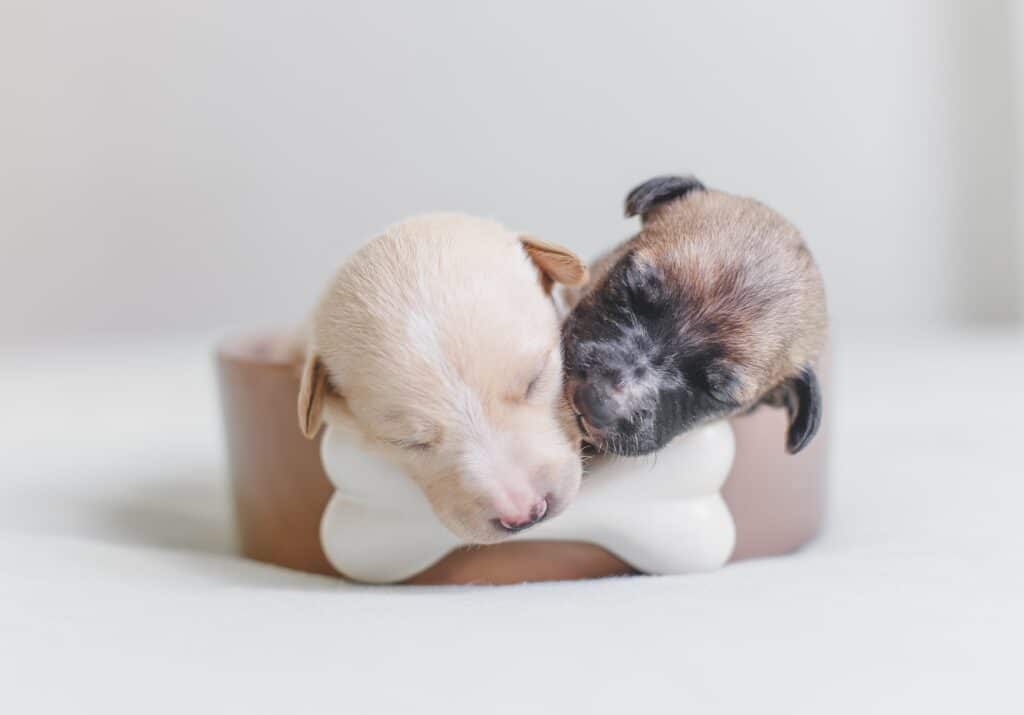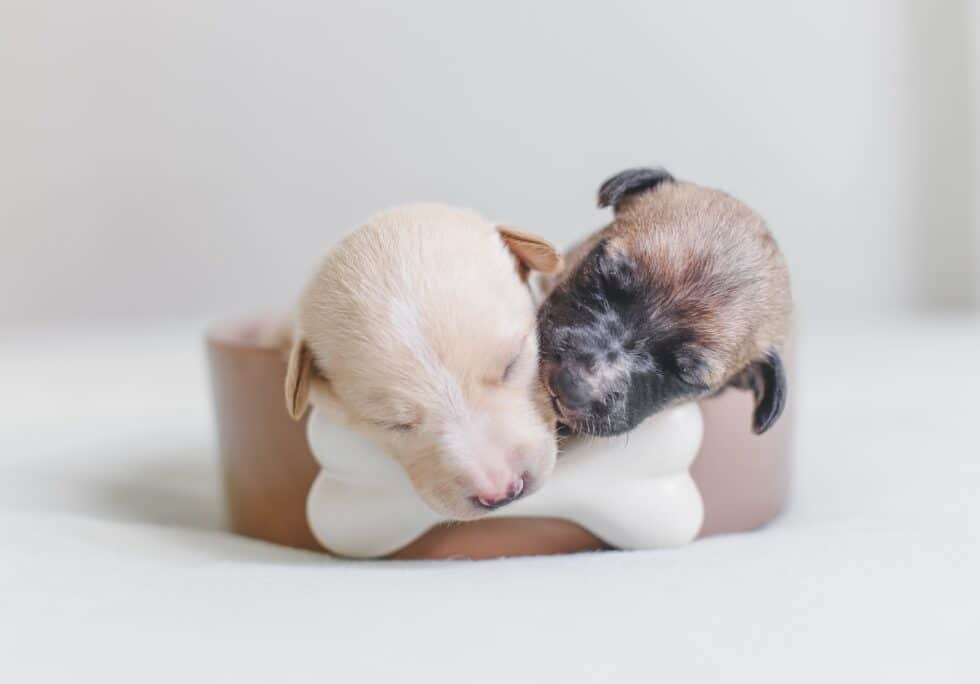 Step 1: Start at the beginning
Start at the very beginning and take your time.
Rushing your young pup to do anything is one of the biggest dog training mistakes that owners make.
Take your time. Be patient.
Tell yourself that the crate training process may take a couple of weeks and go with that.
Start by opening the door of the kennel or den and placing a rug or a blanket next to the door when your dog goes onto the blanket, praise her and reward her with a small healthy treat.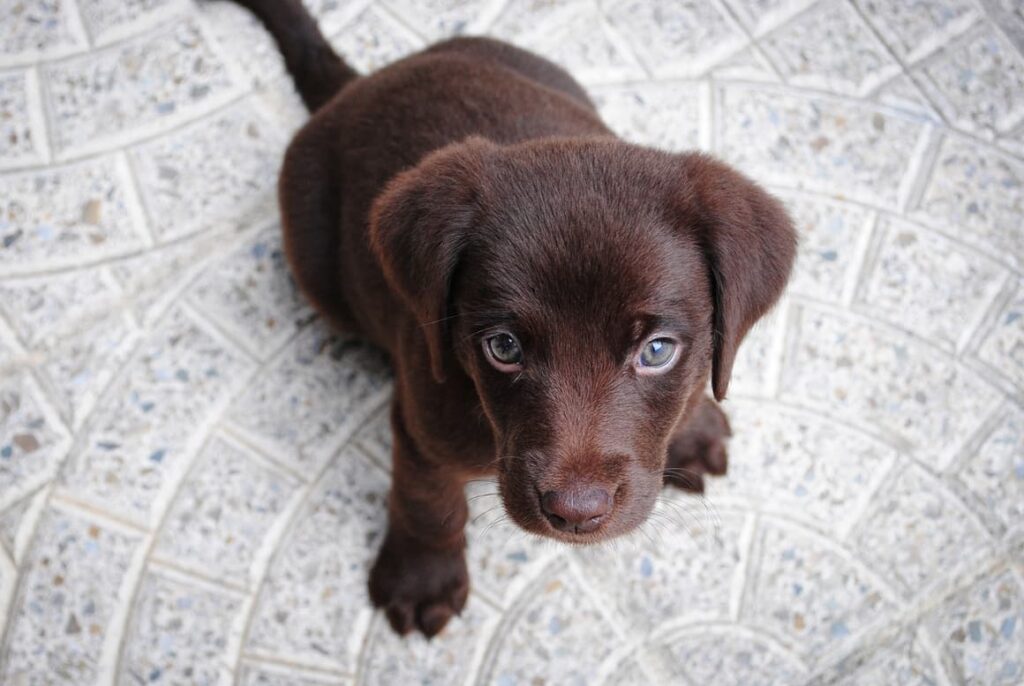 Step 2: Do not fuss
Remember not to make a fuss over the indoor kennel.
Dogs are very wary creatures, and by going over the top and making the den the centre of attention, your dog will likely think it is a game and not cooperate.
Try to act as natural as possible around your new den!
Step 3: Place a blanket inside the crate and leave the door open
Reward your puppy for going inside the den and extend the time in between rewarding with treats. These long lasting dog chews are the perfect way to get your puppy's happy endorphins flowing, making him feel relaxed about the crate training process.
Continue to praise your puppy with strokes and cuddles.
Remember, the crate is just for your puppy!
Don't encourage your cat to invade her space – as much as you want to socialise your dog and cat, your pup won't be ready to share just yet.
(Crate Training Mistake #2)


Step 4: Get down to your pup's level
Read any of the best dog training books and they will all say that getting down to your dog's level when teaching them something new is a must.
Get down to your dogs level and sit beside the crate.
Spend a few minutes talking to your puppy while she is inside her den so that she knows you are right there with her.
Step 5: Close the crate door for a few minutes with your pup inside
Reward your pup with praise and a homemade tasty dog treat.
If your puppy starts to whine at this point, you may have taken things too fast. Return to an earlier stage and be patient.
Remember though! Do not let your pup out of the crate while she is whining or she will associate this with getting his way.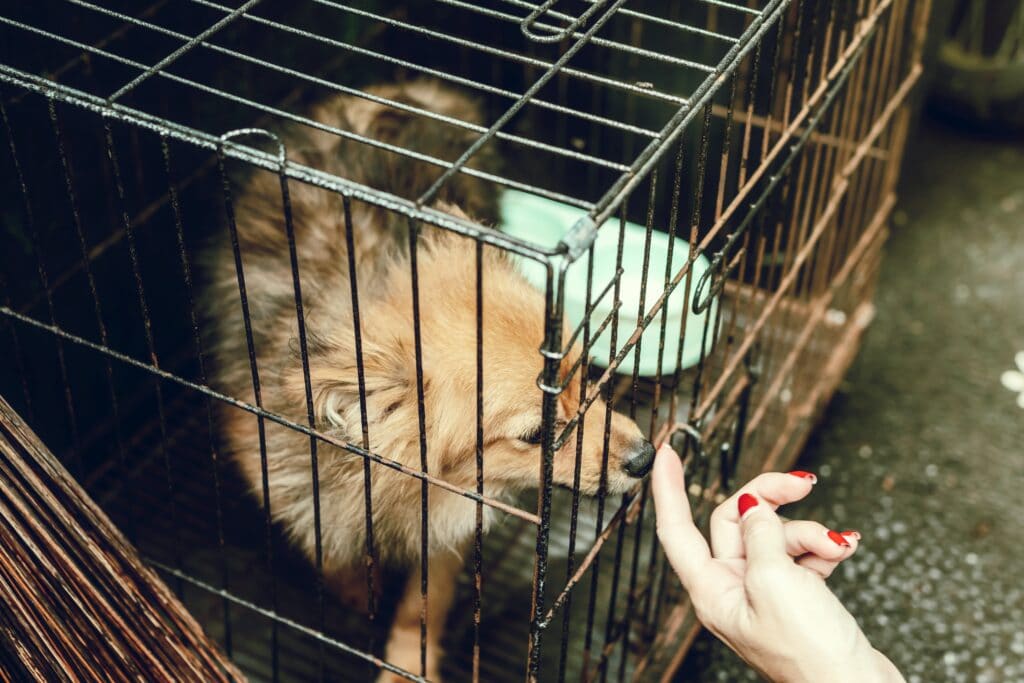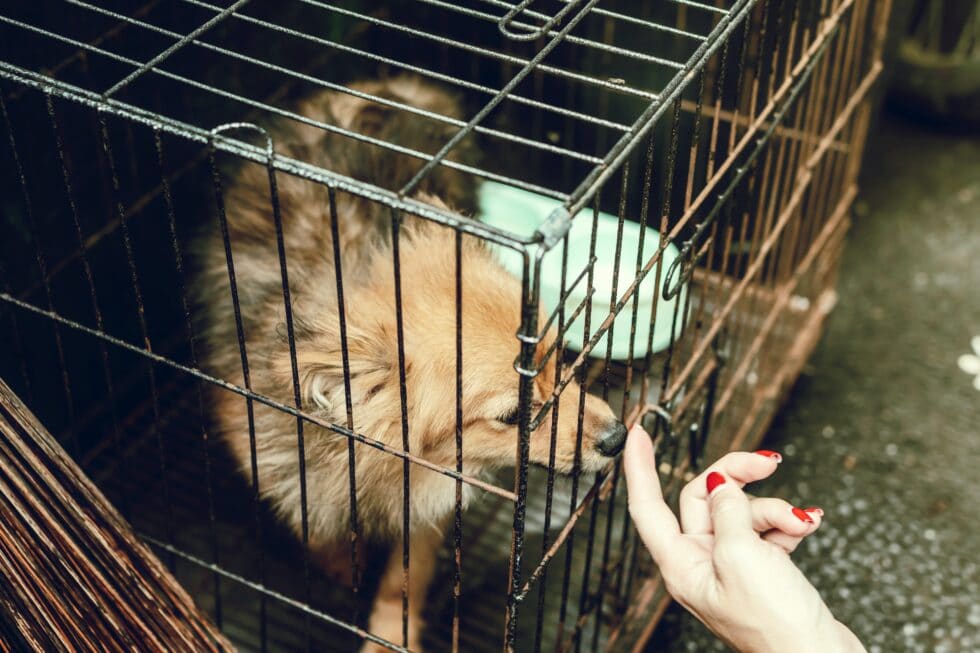 Step 6: Stay in the room with your pup in the crate
Be patient. Don't rush the process, or you will have to start from the beginning.
Gradually leave your puppy in the kennel while you are still in the room.
This is very important.
You do not want your puppy to associate her crate with being left alone. If you have children, encourage them not to make a fuss while the puppy is in the crate.
Step 7: Increase the amount of time
Increase the amount of time your dog is in her crate with the door shut (while you are still in the room).
Once your puppy is happy to stay in her crate for 25 minutes or so, then you are ready to leave her alone in the room.
Do not leave the house but instead, go into the next room or stand out in the hallway where she cannot see you.
Step 8: Keep things quiet
When returning into the room where your puppy is in her crate, don't respond to her eager excitement with a similar reaction.
Come into the room quietly and after a minute or so go over to the crate and open the door.
When she sees that you aren't making a huge fuss, she won't either.
Step 9: Leaving your puppy overnight in her crate
If all has gone smoothly so far then you are now ready to leave your pup in his crate overnight.
Make sure that you are in the habit of walking your dog before you both retire for the night.
Make sure that your pup has relieved himself. He can do this in an indoor dog potty if it is too cold or dark to go outside.
Do not overexcite him before bedtime.
Some studies have shown that having soft music playing in the background will help your puppy relax and sleep. Depending on your home environment, you will know if this method is suitable for you.
Step 10: Put your pup into her crate. Say goodnight & leave
Do not make a fuss. Do not be tempted to go back into the room and check on your pup – this will further delay the crate training process!
If your puppy is whining in her crate – and you have followed steps 1-9 successfully then leave her until morning.
Know that it may take a few nights of puppy whining in her crate, to realise that you won't come and let her out. Once she understands this she will settle.
(Crate Training Mistake #3)


FAQ About Crate Training A Pup
Q: How long does it take to crate train a puppy?
A: Each puppy responds differently to dog training. Expect the process of crate training to take anywhere between one to three weeks. However long it takes it doesn't mean you are doing things wrong. Be patient, follow these 10 steps, and you will be rewarded with a happy and secure dog.
Looking for a way to quickly & easily CRATE TRAIN your puppy?
WITHOUT spending $$$ on fancy courses or long-winded books?
Click the image below to find out why THOUSANDS of dog owners
are RAVING about these PROVEN methods to CRATE TRAIN dogs in as little as
7 DAYS!
Q: What time should I put my puppy to bed in her crate at night?
A: What is important is not the time your pup goes to bed in her crate but the consistency of a routine. Depending on your home routine – be that a 9 pm bedtime or a 1 am bedtime, make sure that your dog is kept in a regular routine.
Q: What are the best dog crates for puppies?
A: Our personal recommendation is the well respected Midwest Dog Crate. It is recognized as the 'All-Inclusive Dog Crate'. It includes a free divider panel, durable dog tray, carrying handle, 4 'roller' Feet to protect floors & Midwest quality Guarantee 1-year Warranty and many, many other features — Click here for prices

If you are looking for an all in one package for your pup then check out the Midwest starter kit puppy crate. This durable and cosy crate includes a crate cover, bowls, dog bed and much more! — Click here for prices
Enjoyed This Post? Share It To Pinterest!⇓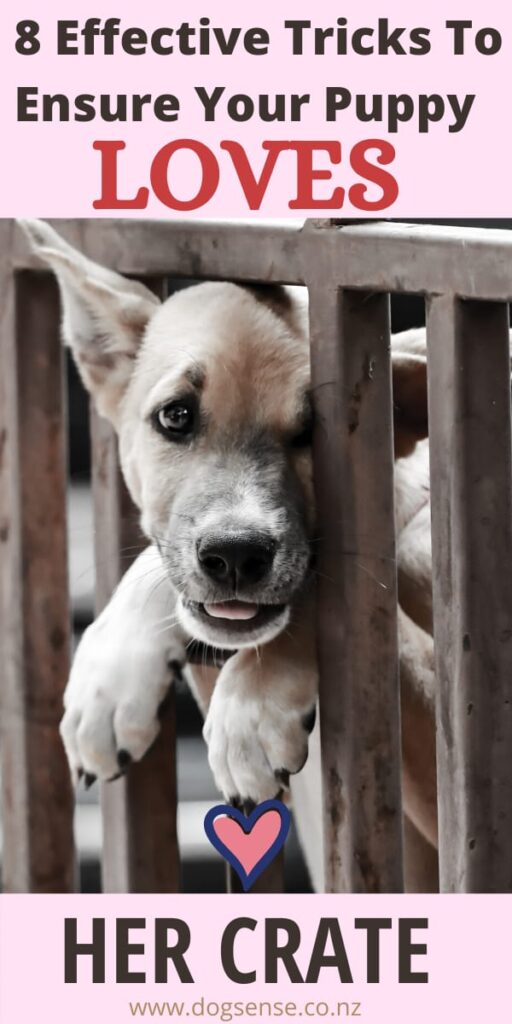 If there is anything else you would like to know about crate training a pup and we haven't covered it in this post, then please don't hesitate to contact us with any queries.
How did you go? Any tips that you would like to share on how you trained your puppy to love her crate? let us know in the comments below!